With the playoffs fast approaching and the Sharks yet again being the only Bay Area team to reach the post-season, there are bound to be some new readers. That's not necessarily a bad thing; we were all new to Fear the Fin at some point. But through the years there have been some inside jokes and common knowledge established that might not be immediately recognizable to the newbie without some extensive searching. Hence, this FAQ to compile all that into one longer-than-required post.
Player nicknames
Active:
Jumbo Joe - Joe Thornton. But in all honesty, you should know that by now.
Patty - Patrick Marleau
Seto/Gooch - Devin Setoguchi. The former is used for when talking about him, the latter is used when he scores a goal. Because that "ooo" sound is always fun to make, and really, what other time do you have the excuse to yell "Gooch!" in publich?
Heater - Dany Heatley
Pavs/Little Joe/JoePa/Joe Money/The King - Joe Pavelski
Boyler/Hedgehog - Dan Boyle, the latter listed on his Olympic player page
Pickles - Marc-Edouard Vlasic
Crankshaft - Douglas Murray. And yes, that is his actual nickname. Used as a verb when he dishes out a big hit ("Avery was just Crankshafted!").
Nabby - Evgeni Nabokov. Used more than his actual name.
Manny being Manny - Manny Malhotra, used to mock Manny Ramirez.
Ferrari - Benn Ferriero
Nichol City - Scott Nichol, referencing the San Jose arcade chain.
Juicy/Prince Logan/Cooch - Logan Couture. Believe it or not, the latter is his actual nickname. Yes, I'm just as surprised as you are.
HTML/Burger Line/Team Canada/the Eh Team - The line of Marleau-Thornton-Heatley. HTML is used most often by members of FTF, but others are used around the internet.
Former:
Like Wall - Arturs Irbe.
The Professor - Igor Larionov
Buster - Owen Nolan
Error/Errorhoff/Iceman - Christian Ehrhoff. Only the last one is his actual nickname, for obvious reasons.
Waterboy/Boosh - Brian Boucher
JR/Styles - Jeremey Roenick
Other:
Abracadabra - Justin Abdelkader
Corey F***ing Perry - Corey Perry
Pronger Physics - Not constrained to FTF. Chris Pronger once justified himself elbowing players in the head by saying that it was "just physics."
DumDum - Jordin Tootoo. Jeremy Roenick once called him a DumDum in an interview, and so it will remain.
MONSTER - Pierre McGuire mockery, usually referring to Mike Richards. If you don't know who Pierre is, lucky you.
Alternate Captain Elbows - Formerly Captain Elbows, another name for Chris Pronger.
Phaneuf - It's Canadian for douche.
Doug Wilson is tan. Really, really tan. And he looks exactly like he did when he played for the Sharks - 20 years ago. Both of these facts are often brought up.
Broadcasters/Journalists
Randy Hahn - Sharks television play by play announcer that has been with the team since it began. Inspires a lot of "TWSS!" moments.
Drew Remenda - Sharks television color guy that was a former assistant coach. He's the bald one. He also used to work for CBC, but then came back to the Sharks. Has a tendency to like players that Sharks fans hate.
--Randy and Drew like to flirt a lot, and they go on lots of tangents. They win the Northern California Emmy for broadcasting crew every year, and so have this weird obsession with it.
Dan Rusanowski - Play by play for the radio, he's never missed a game except for when he was in the car crash a few years back. Known to make an effort to get the correct pronounciation no matter what.
Jamie Baker - Radio analyst, one of the best in the league. Used to play for the Sharks; he scored the most important goal of the franchise, the Game 7 winner against the Red Wings back in '94. Played ping pong with Nabokov once (and lost).
David Pollak - the San Jose Mercury News beat reporter. Who is completely awesome. Has a blog which is the best source of up-to-date news about the Sharks.
Kate Longworth - the former sideline reporter for the Sharks, didn't really know anything about hockey, now gets to interview JaMarcus Russell while walking besides his car.
Brodie Brazil - current Sharks bench reporter. And no, we don't know why he has a stripper name.
Scott Reiss - Studio reporter for CSNCA.
Bret Hedican - Studio reporter for CSNCA, former Cup-winning NHL defenseman (which CSNCA brings up every single time). Also married to Kristi Yamiguchi.
Ross McKeon - Studio reporter for CSNCA, also works with Yahoo! Sports and SF Chronicle. Knows more about hockey than Scott Reiss, but not much.
Ray Fatto Ratto - SF Chronicle sports reporter that knows next to nothing about hockey. Known for his big moustache and fatness.
Mark "Our beloved Los Tiburones" Purdy - San Jose Mercury News reporter who occassionally writes about hockey, although we wish he wouldn't. He is the voice of the Chicken Littles.
Tim Kawakami - Writes about the Sharks once per year, in the lull between the Warrior's season and the Raider's pre-season, usually about how much they choke in the playoffs. And even that once is too much.
Players Cheat Sheet Plank and TCY put together this amazingly comprehensive overview of the team. If you need to know anything about these guys before this season, check here first.
Tank Traditions
Players to Boo:
Chris Pronger
Corey Perry
Brian Campbell
Steve Ott
Brad Marchand
Ed Belfour*
Theo Fleury*
*Players are no longer playing
Frequently Taunted Goalies
Marty Turco
Jonas Hiller
The Anthem
- Right before the singer starts, someone from section 209 will yell out, "Hey [OTHER TEAM'S CITY HERE]." The rest of the arena will answer, "YOU SUCK!"
- When playing the Stars, you must boo the word "stars" within the Star Spangled Banner. It cancels out the cheers that Stars fans do for it.
The Chomp - When the Sharks go on the power play, the Jaws theme will start playing duirng which everyone holds their arms out and moves them up and down in a chomping motion.
Players:
Angry Joe - Occasionally, Joe Thornton gets angry. And when he gets angry, he can dominate a game like few others can. Oh, and he fights people. And wins. Angry Joe is never a bad thing.
Super/Vezina/Cocky Nabby - There are times when Nabokov is just on. During those times, he is the best goalie in the world - the 07-08 season was basically an extended period of Super Nabby, hence the Vezina nomination.
MURRAY SMASH - written in all caps, when Douglas Murray has a huge hit on a player that makes the other player fall down. Or, when the other player tries to hit Murray and still falls down.
Oh captain my captain - Reference to Walt Whitman and/or the movie Dead Poets Society, when Patrick Marleau scores a goal. Doesn't matter that he's not the captain anymore.
Staubitzed - From the legendary Staubitz vs Tootoo fight, whenever Staubitz fights someone or has a big hit. Used as a verb: "Tootoo just got Staubtized!"
Douglas Murray, goal-scorer/offensive force - Douglas Murray scored a hat trick in the pre-season, after only scoring 1 goal in 210 career games.
BUST - Logan Couture, who failed to make the NHL roster/score a hat trick in every game, prompting some people label him a bust. Can also be applied to Dany Heatley (who finally started scoring in game two).
Jesus Greiss - When Thomas Greiss makes a huge save.
CLUTCH! - Joe Pavelski. No, really; other players might pretend to be clutch, but no one reaches the level of Pavelski clutch.
Meth Squirrel - Thomas Greiss, originated by GhostOfLinkGaetz and almost universally agreed on by the rest of the FTF denizens, it refers to his rather spastic playing style and tendency to pokecheck everything and anything.
Captain Hook - Rob Blake has a tendency to take hooking/interference penalties. A lot. Probably once per game. And since he's currently the captain, what else could we call him?
BEAST - When a player on the penalty kill is in the other team's zone, protecting it from 3+ players from the other team all by themselves. Usually refers to Patrick Marleau.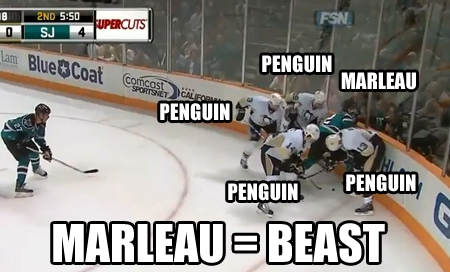 It's Craptastic! - Referring to Comcast, either as a company, cable supplier, or as the Sharks' RSN. Stems from ad campaign "It's Comcastic!"
VROOM VROOM PAHTAY SHTARTAH! - Remember those Conan O'Brien Super Bowl commercials for some beer? Yeah, that. Has various spellings, but usually something close to that.
Fez Trick - When a player scores two goals in regulation and a third goal in the shootout. Since it's not a hat trick officially, it has thus been dubbed a fez trick.
Reginald Dustyballs - Alter ego of Plank.
Shootthepuckunlesstheresnolanethentrytomovethepuckacrossthezone!!! - What the crowd should yell instead of just "SHOOT!" Because far too often we see a defenseman wait too long and shoot the puck into somebody's feet, instead of shooting when we told them to.
GPALZ! - A typo of Plank's that will live forever, originated from this comment. Used when the Sharks score a goal.
Reverse Bandwagon - Something that sounds a lot dirtier than it actually is. Basically, the Sharks are in the unique position of having more fans come out of the woodwork when they're doing bad (i.e., 6 game losing streak or being eliminated from the playoffs), who all disappear when the team is doing well again. Usually, it's the opposite that happens.
Kyle Wellwood is fat - a meme originated by Down Goes Brown, has been adopted by the internet. Because, like it says, Kyle Wellwood is fat.
Bringer of Doom Award - An award handed out by Couch Tarts' own CTGray, it is awarded to the individual or group who brings the most doom, i.e. jinxes the Sharks.
Schnide - Once upon a time, we were worried about secondary scoring, and how nobody outside of the top line was scoring any goals for a few weeks. Well one night the secondary scoring "got off the schnide." All of it. In what later became a drinking game, Randy and Drew kept proclaiming players off of their respective schnides throughout the game, making many people completely wasted. BONUS! The combined schnides of all the players that scored (including Regehr) was 244 games. Of course, Regehr's was 142 alone.
Rob Blake takes at least one interference/hooking penalty per game. While that may not be completely true, it sure seems like it.
Joe Thornton is a self-described "wooly mammoth guy," which occasionally comes up. [Source]
Marleau for Drury - A completely idiotic trade proposal made by Greg Wyshynski of Puck Daddy that is often brought up and mocked. Note: Puck Daddy is a good source for general hockey news. Sharks stuff? Not so much.
Dancing GIFs - After a Sharks win, the posters will post various GIFs of people dancing or other amusing/celebratory acts. Not during the game, though, because that's like mentioning a no-hitter during the game, and will likely get you a Bringer of Doom award. Also, it slows down the page.
Deity Hierarchy
Certain players have achieved deity status.
Uber God - Patrick Marleau
God - Joe Thornton, Alex Stalock
Jesus - Dan Boyle
Twelve - Marc-Eduoard Vlasic
Stalock Superfans - Al Stalock, a goalie prospect tearing up the AHL, was the subject of an SNL Superfans parody back when he played for UMD. Since the internet exists, we found them. They are now occasionally brought up when talking about Stalock.
"Acutally, I heard Stalock is 30% grizzly bear. I also heard he's 30% machine and 30% cheetah, 10% man, and 80% god."
Episode I | Episode II | Episode III
Our Stalock, who art in goal, hockey be thy name;
For every shot, that is on goal, may you save them all the same.
The Save - The Niners have The Catch, the Sharks have The Save. While the Sharks ultimately ended up losing the game, Nabokov's save on Brad Richards in the first of four overtime periods is still regarded as one of the best all-time.
Grier's Laws of Hockey
Grier's First Law - Missing an empty net, especially when the goalie is pulled.
Grier's Second Law - Shooting the puck into the goalie's chest on a breakaway.
Retired memes:
Glove of Doom - When Semenov reached up to block the puck with his hand, and caused the puck to go into net behind Nabokov. And more defense.
Corn - Of the KFC chicken & corn commercials. Once sparked an epic rally against Phoenix. Setoguchi's hometown is also Taber, Alberta - the corn capital of the world. The mojo wore off after that, and so will never be mentioned again.
Steven Seagal - Popped up around the same time corn did, also used as a rally/mojo thing. Didn't work, and thus was forgotten.
26th pick - Sharks's 2009 1st round pick was traded five times in less than a year. It also represented the only interesting part of watching the first round of the draft.
NHL Rule Against Shark Shutouts - During the 09-10 season, there were 138 days between shutouts, leading us to believe that the NHL enacted a rule against any Shark goalie recording a shutout. Coincidentially, the day the rule against headshots went into effect, Nabokov recorded his 50th career shutout, ending the streak. We think it might be connected in some way.
Sarah Palin Mask - This mask, posted by GhostOfLinkGaetz, led to a 10 game win streak. But when the streak ended, so did the mojo. And the tolerance of certain posters to put up with it.
Cinco de Mayo
It was Cinco de Mayo. Phoenix had just declared bankruptcy, and the Sharks were out of the playoffs. Mr. K got absolutely wasted, and decided to spend his drunkeness posting on FTF. Highlights below, but if you want to get the full effect, you need to read the ~600 comments. Warning: Definitely NSFW.
iaT"S FUCKINGE LIEK CONICO DO MAYO!!!!!111
I'd mbe down feof a cookei. Snciker doeole s are mfey famvoruite.
[After finding out what NAMBLA is] ALLEN FUCKIGN GINSEBERG MAN – fuckign beat as s porets in fuciing north beach and new yorlk jsut fuckign stepuid man.
Tahsk mymcoelie! But I dthoguht you leike d IND AN COUCNT BURGER?
Yeah man When i wa in Vancouver in January there was this guy that sade "You stupeid Sharks fans in Socala you know knthing about hockey." And I says to the guy, "San Jose is in Northerne Calairifonai." He oooks at me like I'm stupid… Shit does this tehave a lot of typos – I lvoe mexicona holidays.
NIEDKLERYARYER oer sometoethin lie kthat!!!!
Was pLankd just here? PALNDK!!!! I JSUT CALLED YOU MAN WHY DIDNT SYOU STAY ONE EH PHONE LONG?
Animal Puns Photoshops There have been other Photoshop threads, but this one was just completely epic. And it all started with TCY's Joe Roarton...
Official Message Board Thread
Immediately after the Sharks were eliminated by the Ducks, FTF was overrun by new users that "have been reading for a long time" and "finally got the urge to sign up." All of them kept posting about blowing the team up, firing everyone, and so on. And so, Plank posted the Official HFBoards Message Boards thread, where we conversed about leadership, trades, and heart. And how Tiger Wood's knees had more heart than Patrick Marleau. Also, GMs: "glen sather iz allso gud i herd. must invstigate diz and wrte letterz to shrkeez. he know wat 2 do."
Honorable Mention Threads
Fate of NHL40Man - IMMA TAKING UR BLOGS FROM U!
Official Gender Thread - See the breakdown of who's what.
Go-Go Google - Communist skittles!
BevSco - How well are the Sharks playing according to what alchoholic beverage Plank is drinking during the game.
ESPN Player Survey Why is this so important? Well, the Sharks were voted to have the third most disruptive fans in the league, Patrick Marleau is the most underrated player, and was voted as the fourth-best leader. It's justification of everything we believe in.
That Canadian that falls down first? Yeah, that's Corey Perry.

Easily TCY's Finest Work

Dan Boyle's Abs > You

Required Videos