NHL Entry Draft 2017
FTF Draft Coverage: A look at Ottawa 67's prospects featuring Sports Team 1200 play by play commentator Jon Abbott
As a precursor to our upcoming trip to the NHL draft, we'll be doing a series of draft related articles, including prospect profiles. Unlike most other sites, though, our prospect focus will be on players who are expected to be drafted at or around the 28th overall pick where the San Jose Sharks currently reside. For this edition, we're pleased to invite Ottawa 67's play by play commentator Jon Abbott of Sports Radio Team 1200. We'd like to thank Jon Abbot and Sports Radio Team 1200 for their help with this article.
There are few guarantees in the NHL Draft, but if I'm a betting man, I'm putting money on Doug Wilson nabbing an Ottawa 67 at some point. Not only does the organization consistently churn out NHL caliber prospects, but Doug Wilson's personal ties to the team (he played his junior hockey there from 1974-1977) means that the Sharks GM is bound to take a hard look on anyone who has donned the black, red and white stripes.
Wilson has drafted four 67's in the last five years. Two, Logan Couture and Jamie McGinn, are among the organization's elite young players. It appears that Wilson's familiarity with the OHL team has led to some quality draft decisions.
Because of this established history between the two franchises, we thought it only fitting to kick off our  draft coverage with three 67's prospects: top players Tyler Toffoli and Ryan Martindaleand sleeper pick Dalton Smith. We brought along Jon Abbott (Ottawa 67's play by play commentator for Sports Radio Team 1200) for some insider knowledge on the three; our breakdown and his comments can be found after the jump.
---
| | G | A | P | +/- | PIM |
| --- | --- | --- | --- | --- | --- |
| 2009-2010 OHL - Tyler Toffoli | 37 | 42 | 79 | 25 | 54 |
---
Conversation with Jon Abbott:
Central scouting has Tyler jumping six spots on their rankings in the last half of the season, what do you attribute this jump to?
I think he did turn his game up, alot of people around here are throwing out the word "elevated", and I agree with that. Through the summer he was part of a national team, in addition to working out and competing in the Beanpot Cup in Boston. So he was awfully busy. I think in the first half of the year he was just fatigued; every one was making a big deal of the fact that he didn't have a point in the first five games of the season, but he he went on to score 79 points. That's the last time anyone mentioned those five games.
I think he was well aware that this was his draft year, and he wanted to do well for the team. So he rebounded a bit and put together a great season.
Of all OHL forwards, only Hall, Seguin and Kadri had higher PPG's this year. Why is he expected to go so low in the first round when he's in this elite company?
I really don't know, I guess that's not why I don't do the ratings. One thing that I have heard people critique him on is his skating. While he does have an unorthodox skating style, I don't see that being a hindrance to him later on. Even if that is a knock on him, I think it's something that's ultimately easy to improve upon.
Well, the Sharks haven't had a problem with drafting players with those issues before. Couture, Pavelski, and Clowe all had skating issues as young players.
Yeah, I don't think it's a problem. If that is the one minus that he's getting... it's easy to overcome. I wouldn't be surprised if he moved up a bit higher in the draft if that's the only issue.
We've heard alot about his shot: quick release on the wrist shot, very accurate. Is that is best weapon, or does he have other ways to score?
You heard right about the wrist shot, but he's even been featured on the point on the powerplay at times this year. He's a guy who was looked to for one timers as well; he has a heavy shot for a player who doesn't look like he'd really be able to uncork one. He reminds me alot of Dany Heatley actually; he knows how to get open and just has that goal scoring skill. They love going cross crease to him on the rush, they used that play often this year.
You mentioned the size. Is he working on getting bigger?
He's been getting bigger while he's been here. He's worked hard to improve his strength as the season has gone on, but it's hard sometimes to build up bulk when you're constantly playing all year like he did.I don't think he'll be 6'3" or anything, but I think he's going to get stronger over the summer, as he'll be part of an NHL camp, and that's only going to make him more dominant.
You've been with the 67's for a few years now, how would you compare Toffoli to McGinn and Couture?
That'sa tough one because I love both of those guys as well, and they all bring something different. Geeze, tough. But in terms of just being able to create something out of nothing, I'd have to put Toffoliahead of both of them. I just really feel that the way he's able to develop plays, his presence out there is unmatched. Logan was probably better at finding players, as a set-up guy, but Toffoli is someone you have to game plan for as a goal scorer. Sheer offensive ability? I'd have to go Toffoli.
Sounds like he'd be a steal if he fell to the Sharks at 28.
Oh definitely. I remember his first game in the OHL; you just knew he was going to be a special hockey player. He's one of the guys who can make plays that other people can't, whether it's one on one or setting his teammates up. There's a vision there that's just hard to come by. There are alot of teams that are interested in Toffoli, and again, I wouldn't be surprised if he was selected earlier than 28th.
FTF's Basic Observation:
Tyler Toffoli is a tall 18 year old center/right wing, coming in at 6'0", 178 lbs.  He could afford to gain a few pounds to fill out his frame, but at just 18, that'snot really a concern for the young man. The Scarborough, Ontario native has played two seasons withOttawa; he was second on the team in both goals (37) and points (79) to Cody Lindsay (a player two years his senior), but his PPG of 1.21 led the club.
Toffoli is known primarily for his goal scoring prowess. He's accurate with his nice, quick release and has good hands. His defensive game is lacking, by most accounts, but has improved this aspect of his game since joining the 67's in 2008.
His stock has slipped somewhat, for whatever reason, as we don't see him in the top 25 on many mock drafts. In most mocks that we've seen, he goes to the Sharks at 28. From what I see, that's a steal. A player with this type of polished talent is seldom found this late in the first round... perhaps his absence on most mock drafts is just an oversight. If he slips to San Jose, though, it would be one of the better value picks in the draft.
Oh, and worth noting: his favorite player is Dany Heatley, someone he was compared to by Jon Abbott.
Central Scouting: Final Skater Rank: 16 Midseaon Player Rank: 22
Scouting Report
Over a 47-game span in 2009-10, Toffoli averaged more than a point and a half per-game -- only three of the top 10 scorers in the OHL averaged more: Taylor Hall (No. 2 ranked), Tyler Seguin (No. 1 ranked) and Nazem Kadri (selected 7th overall in 2009). He has consistently produced in the playoffs as well, recording 21 points (9-12--21) in 19 career playoff games.

Toffoli on his tough start to the first 10 games of the season that produced only three points (1-2--3): "The beginning of the year was the hardest part to get through. The (dressing) room was a place nobody wanted to be."

He made his OHL debut in 2008-09 after being selected seventh in the 2007 OHL draft -- two spots ahead of Tyler Seguin. He finished 12th in rookie scoring (17-29--46) in 54 games and was named to the OHL All-Rookie Team.

Member of the gold medal winning Canadian team at 2009 Ivan Hlinkatournament, playing on a line with Tyler Seguin and John McFarland (No. 15 ranked). He finished second in team scoring (3-5--8) in four games.
Before playing in the OHL, Toffoli was a member of the Toronto Junior Canadiens that won the Minor Midget OHL Cup Championship.
Director of NHL Central Scouting, E.J. McGuire
"Is not very big in stature for his Ottawa team, but he makes up for that in skill and effort. He's got 79 points in his 65 games played. He's got an NHL release and incredible accuracy with his shot. An equal threat whether he's dishing the puck or shooting the puck himself."
Ottawa 67's head coach Chris Byrne
"Tyler Toffoli has great anticipation and hockey sense. His ability to make and finish plays sets him apart from most other players. This season he has developed a good two way game and is strong in his own end."
---
| | G | A | P | +/- | PIM |
| --- | --- | --- | --- | --- | --- |
| 2009-2010 OHL - Ryan Martindale | 19 | 41 | 60 | 2 | 37 |
---
Conversation with Jon Abbott:
Martindale is a much different player than Toffoli, but he's projected to go somewhere around Toffoli in the mock drafts we've seen, even before in some cases. Is that because of the size?
I'd be surprised if Marty went before Tyler; that's not a knock on Marty of course but they're just different players. He does have good size for a player his age, that's an asset. People see his frame and see that he could be a big, powerful forward in the future... he reminds me alot of Joe Nieuwendyk, if you can get that picture in your mind.
He didn't score 20 goals this year, and that was a dissapointment. But I'll tell you what, he had the longest point scoring streak this year before Taylor Hall put together a longer one, and Hall's one of the top players in this draft class.
You mention Joe Nieuwendyk, what do you think Martindale's ceiling is as an NHL player?
I think he could be, he has the will and the desire, I could see him being a guy that a team builds around. He could be the prototypical "big" center that every team looks for.
You might not hear that from everyone, but I believe in him and think he's got all the tools to get there.
His goal scoring numbers dropped off, but 41 assists is nothing to frown at, especially since he didn't play on the same line as Toffoli. Was that a concious effort by him, to up the assist totals?
There are a few things that go into the change, and I think if you asked Ryan he'd be dissapointed with the goal totals as well, but he was happy with the overall numbers.
Before this season started he really wanted to work on his faceoffs and his two-way play, and he did. Down the line, he was one of Ottawa's best players partially because he was the team's best faceoffguy. Even in the top prospect game in Windsor (which tends to be an offensive showcase), scouts were very impressed with the skill in the faceoffcircle and with the way he played in his own zone. Sometimes when you commit to make a change in these types of areas your offensive numbers struggle, but overall he made a step forward this year.
Ottawa's known for churning out those two way guys, and Doug Wilson loves those types of players.
Well, Logan is probably the best I've seen in that regard. It's a rarity for players to have that type of focus. Martindale is looking to be that type of player.
FTF's Basic Observation:
The 19 year old Ryan Martindale is a tad bigger than Toffoli, coming in at 6'3", 183 lbs. The center/left wing began his career in Ottawa as a goal scorer, but has since become more of a playmaker; 41 of his 60 points this season were assists.
Like many Ottawa 67's centers before him, Martindale is well known for his two way commitment to the game. He's sound defensively and is likely to become more of a physical presence as he matures into his 6'3" frame.
Because of his size, Martindale is projected to go before Toffoli in a few mock drafts that we've seen. Although he may not have the goal scoring acumen of Toffoli, his all around commitment to the game should get some looks. If Toffoli is nabbed before the 28th pick, Martindale could be a solid option for San Jose. However, Doug Wilson might want to add someone who'sgot a bit more goal-scoring acumen. The team is loaded with two-way assist men.
Central Scouting: Final Skater Rank: 27 Midseaon Player Rank: 24
After breaking out in 2008-09, his second season in Ottawa, with 23 goals in 53 games, Martindale settled into more of a play-making role this season - tallying 41 assists in 64 games.

He had an advantage that most young hockey players do not, his father was a goalie for the Toronto Marlboros in the OHA (1979-83) - "It's an advantage because (my dad) knows the goalie's tendencies and he's really helped me out in how to score and what to do and the best places to shoot."

Martindale, whose favorite athlete is Joe Sakic, wore number seven in minor hockey because his father was a big fan of Phil Esposito. He wears number 77 in Ottawa because seven is retired (number worn by Doug Wilson and Denis Potvin)
Ottawa 67's head coach Chris Byrne
"Ryan Martindaleis a tall, skilled, swift-skating center who can play in all situations. Ryan has worked hard on playing a 2 way game this season. He has a nose for the net and can beat defenders one-on-one with his size, speed or skill."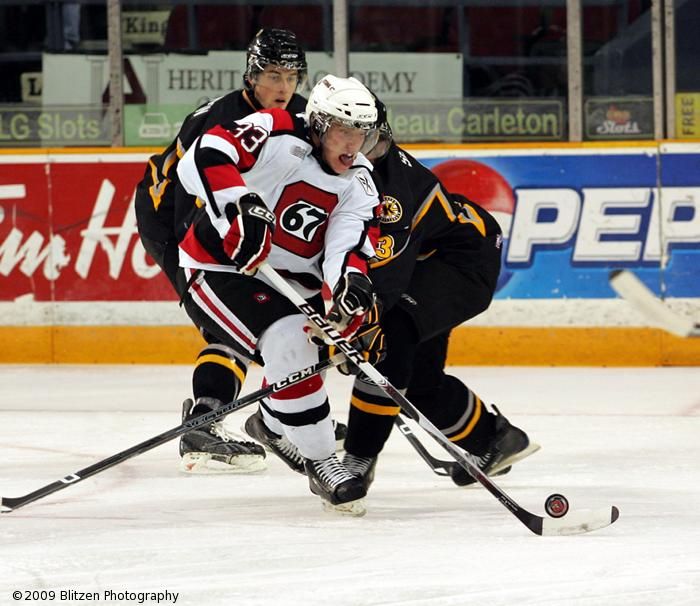 ---
| | G | A | P | +/- | PIM |
| --- | --- | --- | --- | --- | --- |
| 2009-2010 OHL - Dalton Smith | 21 | 23 | 44 | 20 | 129 |
---
Conversation with Jon Abbott:
Kudos to Jon on this one. We hadn't planned on covering Dalton Smith in this article but he sounds like a very interesting player. His comments are below.
I don't know how interested you guys are in the mid round picks, but Dalton Smith is going to make a team very very happy. He is a big rugged left winger, over 6'1" 200lbs, and he's one of the few guys that scored 20 goals and had more than 100 penalty minutes. That'sa pretty good combo.
He would fight anyone. He loves getting in the eyes of the goaltender, facing the shot. You can put him anywhere and he'll score. Dalton played opposite Toffoli on the first line all year, so he was the guy who was doing the grunt work to set Toffoli up.
He's not a name that many people know, but he's going to make a franchise very happy.
FTF's Basic Observation:
I honestly didn't know much about Dalton Smith until Jon mentioned him, but I had heard his name mentioned on other blogs over the past year. From the sounds of it, he's very talented for a big guy; and at 6'1", 200 lbs he's huge for an 18 year old.
Two things that jump out to me immediately: his willingness to screen the goalie and his ability to play top line minutes. Hard qualities to find in a player this early in their career, and the net play is especially something that the Sharks system has been lacking over the years. Since the team is pretty light on forwards (bothin number and size), I could see Wilson picking up one of the top two guys in addition to Smith, if he wanted to go that route. He sounds a bit like Clowe, and like Clowe, he has the expected skating issues that come with large forwards. Skating, though, isn't something that has scared the Sharks away in the past.
If he makes it to the San Jose in the third round, I'm crossing my fingers that Wilson picks him up.
Go Sharks.